"…because everybody loves a GOOD T-Shirt!" -Ray Hill-
Behold! Our Home on Magnolia Hill Cotton Apparel Collection!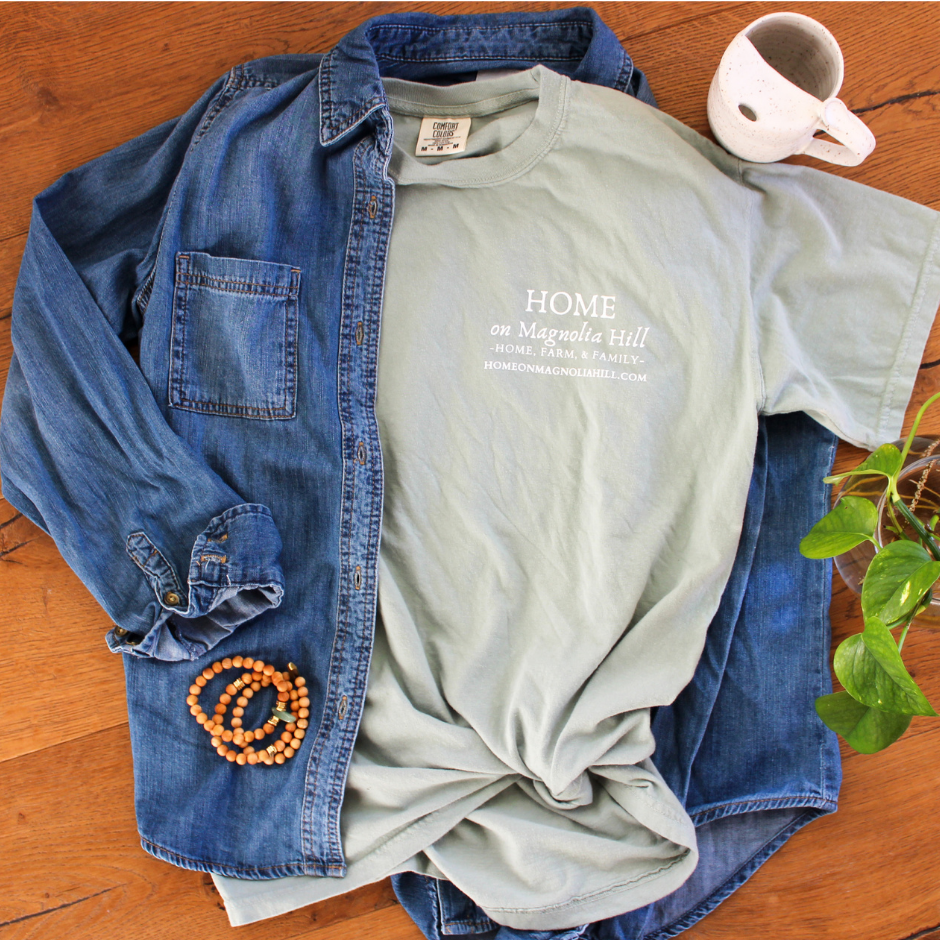 I am so excited to share the first few designs of our Home on Magnolia Hill Cotton Apparel Collection!
Our Home on Magnolia Hill Cotton Apparel designs are reflections of our original, and current, style here at Home on Magnolia Hill.
I definitely can not take the credit for the whole "T-Shirt idea" here though. This was all the hubs! His words exactly, "… because everybody loves a good T-Shirt!"
And since I am always creating and dabbling in graphics, I thought this would be a wonderful idea! Another creative outlet, yes please!! Something I can share with others, double yes!
The Magnolia and The Diamond Design Cotton Apparel Collections
Both our Magnolia and Diamond Cotton Apparel lines are created from high quality printing and 100% cotton material. We offer both designs in Comfort Colors brand T-Shirts, in the various colors described in the details below. We also offer our Magnolia Design in Alternative brand lightweight sweatshirts! These sweatshirts are by far the most cozy and comfortable lightweight sweatshirts I have ever had the pleasure of wearing!
The Magnolia design is, of course, our namesake and original inspiration from the beginning
"Why the Magnolia?", you may ask. Well, a few reasons.
My family and I are oh so blessed to call the Felicianas of Louisiana our home. And living in the Felicianas, we get to experience the beauty of the ever-elegant Magnolia, abundantly and all around us. Our farm, especially, is overflowing with these velvety soft, fragrant, and magnificent flowering trees.
Here, adding to why I love these trees so dearly, Southern Living does an extraordinary job describing Southern Magnolias. If you're wanting to welcome some of these delightfully fragrant trees to your home or property, Happy DIY Home's article is a great resource to get you started!
I have always been very fond of these trees and their stunning sweet blooms. The trees themselves are strong, but flexible with their soft smooth grain. I guess you may even go as far as to say that I somewhat aspire to be like the Magnolia tree in my everyday approach to life; strong but flexible.
And we could all learn a thing or two from the glorious Magnolia blooms! If we could bring smiles to this world the way the sweetness and beauty of a Magnolia bloom does to me, man oh man wouldn't that be wonderful?!
That is why I chose the Magnolia; for our name, for our first T-Shirt design, and to fill our farm with sweetness and beauty.
The Magnolia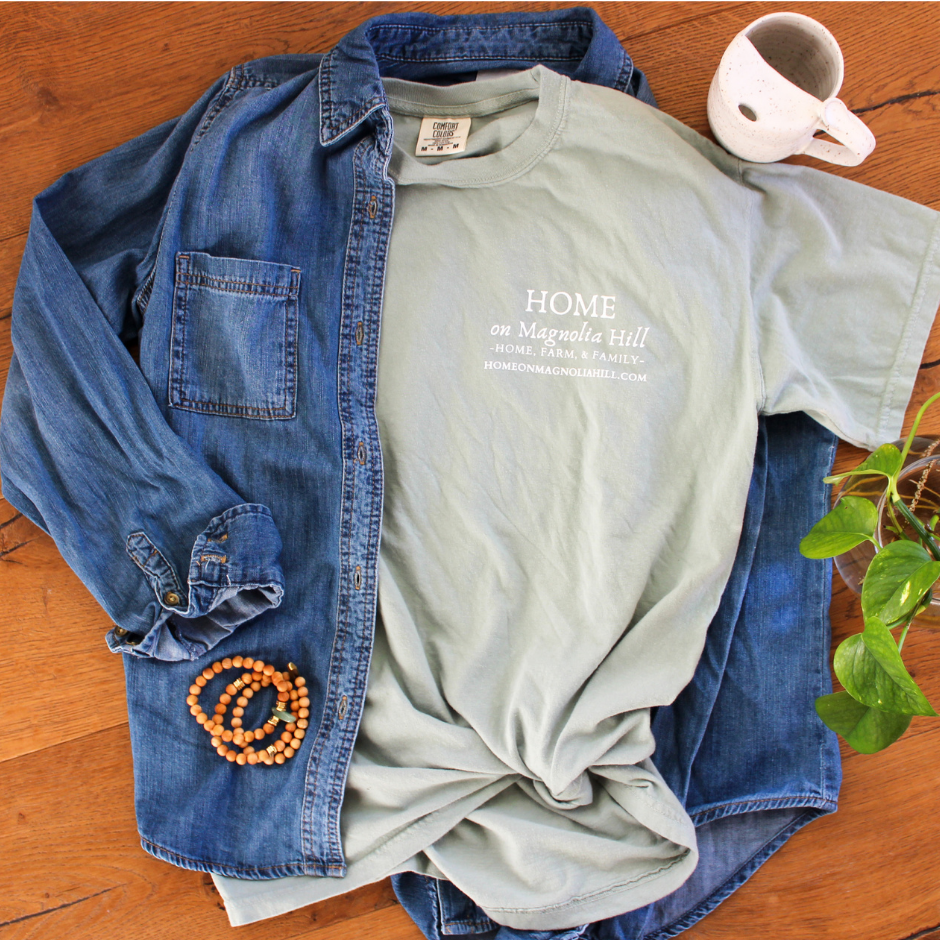 The Diamond design emulates our slightly modern edge in a timeless way
Our Diamond design, with its clean lines and simplicity, was created from a more modern perspective. Although I gravitate toward more traditional styles, in anything from architecture to clothing, I always find myself adding just a smidge' of modernness.
This T-Shirt design expresses that traditional, timeless style with a little modern edge. For our friends that prefer less floral and more simple, this is the perfect T-Shirt!
The Diamond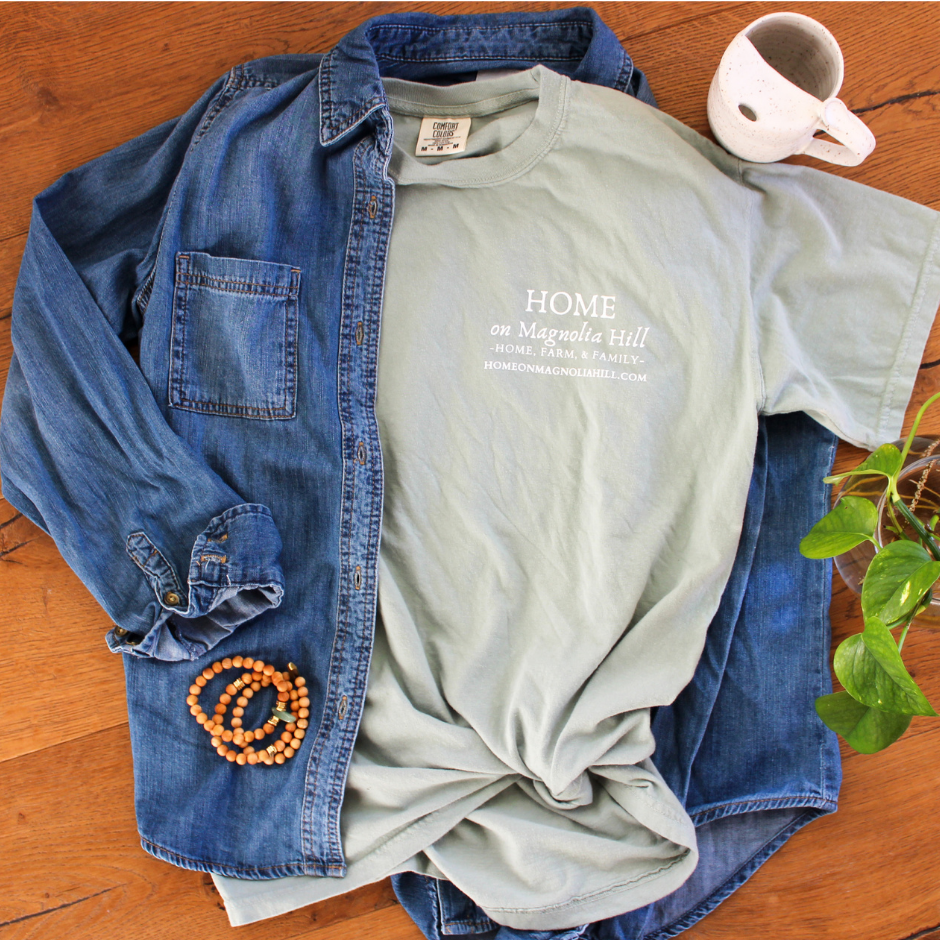 How can you get your Home on Magnolia Hill Cotton Apparel?
We opened an Etsy Shop!
In order to create a common, and easily accessible place for all of our Home on Magnolia Hill goodies, we opened our Etsy Shop in September of 2020. We have absolutely LOVED meeting so many fantastic people through our new little shop!
The support and connection we have found by opening our shop has been more than I could have ever imagined possible!
If you would like to check out our Home on Magnolia Hill Cotton Apparel line, and all of our other Home on Magnolia Hill creations, head on over to our Etsy Shop by clicking HERE!
New Items Coming Soon!
I can't wait to expand our Cotton Apparel Collection, and even add some brand new items, as we continue to grow and share with you!! Thank you so much to all of you who follow along as we share all things Home, Farm, Family & DIY!
To learn more about how Home on Magnolia Hill came to be, click here.
---
For helpful posts from Home on Magnolia Hill, check out the links below!
How to Propogate Pothos Plants
My Favorite Houseplants and Houseplant Products