This easy oven-roasted beef brisket recipe features my family's very own Chef Williams Original Creole Garlic Marinade, and that's it. Yes, you read that correctly, there are very few ingredients in this flavorful recipe: brisket, marinade, and dry seasoning! So does it get any easier?
In the recipe details below, my Dad explains how you can prepare an impressive brisket for the oven in as little as thirty minutes prep time!
Now, don't get confused here. This is definitely a slow cooking recipe; approximately three and a half hours. But, your other, typical slow cooking recipes call for searing of your cut of meat beforehand. This searing requires more ingredients, time, and ughhh dishes. None of that for this slow cooked brisket recipe my friend!
Read on to learn how you can create an extraordinary meal for your family, with very little work! Then sit back, grab your favorite beverage and enjoy the mouthwatering creole aroma that fills the air while your beef brisket masterpiece slow cooks to perfection.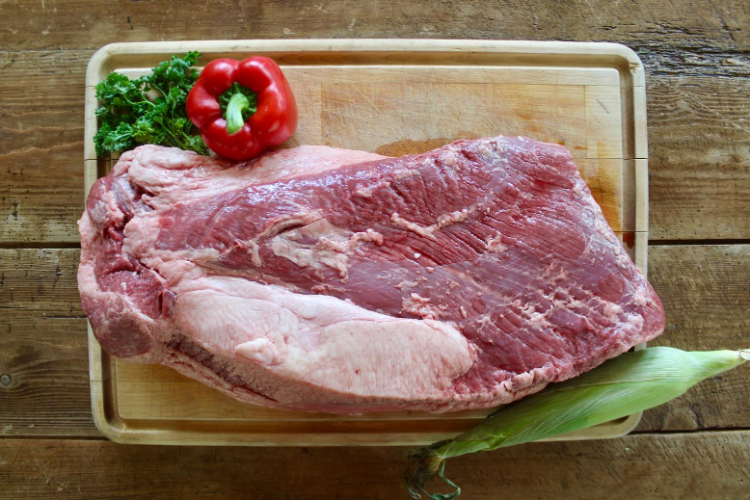 Make sure to print or pin your Easy Oven-Roasted Beef Brisket Recipe Card to add to your collection!
Yield: approx. 10 servings
Oven-Roasted Beef Brisket
Chef Williams Original Creole Garlic Marinated Oven-Roasted Beef Brisket
*Gluten Free
Cook Time
3 hours
30 minutes
Ingredients
12-14 Pound Beef Brisket
Salt & Pepper to taste *Chef Shake when available
Instructions
Preheat oven to 350 degrees
Watch the video below as my Dad explains all the tips and tricks to help make this simple recipe even simpler for you
Trim excess fat from brisket
Place trimmed brisket in large roasting pan
Inject 1-1.5 jars of marinade evenly throughout brisket
Pour remaining marinade over brisket
Rub brisket with dry seasoning
Cover with foil
Cook at 350 degrees for 3 hours
Remove from oven
Remove foil from pan
Place uncovered brisket back in oven for another 30 minutes
Remove from oven and let rest for 15 minutes
Slice brisket and dip slices back into juice (Au Jus) rendered from cooking
Serve hot with juice or cold as a roasted beef sandwich, yum!
Recommended Products
As an Amazon Associate and member of other affiliate programs, I earn from qualifying purchases.
The best way to serve this recipe…any way imaginable!
This savory beef brisket is such a versatile, workhorse of a meal: it's a LOT of food, simple to prepare, and everybody LOVES it! Somehow it tastes just as wonderful on a sandwich as it does served as a steaming, juicy main course.
Do you ever find yourself searching for that meal that can last through the week for your family? That meal from which they look forward to eating the leftovers? This is it!
To serve as a main entree, just grab a fresh loaf of french bread, a dainty mixed green salad, and a nice glass of Cabernet Sauvignon. The au jus from your brisket makes for a mouthwatering dip for your fresh, lightly toasted french bread. Then, dress your salad with a lovely oil based dressing and you're in for a treat!
Oh my goodness, my mouth is watering just from describing this recipe for you! So it's safe to say this is one of my favorites!
If you want to serve as a roasted beef sandwich, you can serve hot or cold. I usually like my sandwiches hot in the winter and cold in the summer.
Beef brisket is such an adaptable protein! Because of this, you can even use it in other go-to recipes you may prepare for your family on the regular: beef tacos, stir fry, or freeze it to save for soups and other stocks.
Hey! If you think of any new ways to serve this easy, oven-roasted beef brisket, please share them in the comments at the end of this post! I can't wait to see your ideas!!
A Family Recipe Tradition
My entire family and I have been enjoying Chef Williams Original Marinades, especially our Creole Garlic flavor, for over 35 years. My Dad does a wonderful job telling the Chef Williams Original story in this recipe video, which you can watch here! You can also read the history here! I never tire of this story; this story has my heart and I know you will love it as well. I hope you and yours enjoy my Grandfather and Father's (and the whole fam's) labor of love for many years to come!
Visit ChefWilliamsOriginal.com or a grocer near you to get your marinade. If you're looking for a special gift, the Chef Williams Original Injectable Marinade Collection Bundle (currently only offered on the website) is fantastic for the foodies in your life!
Please share in the comments below if you try our family recipe! I would love to know what you think!
Thank you so much for stopping by Home on Magnolia Hill! I'm looking forward to you visiting again soon!
Make sure you subscribe to our Newsletter below so you can be the first to know about new recipes, and all things Home, Farm, and Family!
To learn more about the gal behind Home on Magnolia Hill, click here.
---
For more helpful posts for your Home, Farm, and Family, check out the links below!